Alcohol & Ethanol Industry – UP, the Bright Star
I. Overview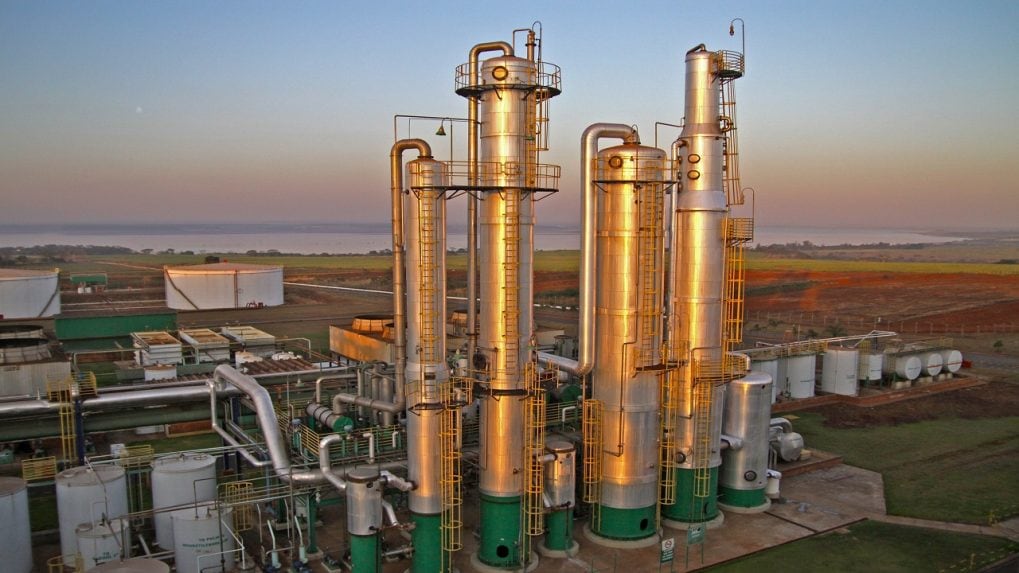 Uttar Pradesh is a land of limitless opportunities in the Distillery/Alcohol sector due to several reasons.
Firstly, Uttar Pradesh is the largest producer of sugarcane in India, which is a primary raw material for alcohol production. This makes Uttar Pradesh an attractive destination for investment in the alcohol industry, as it offers a reliable source of raw materials.
Secondly, the state has a diverse Agricultural base that includes grains such as maize, wheat, and barley, which can be used as alternative raw materials for alcohol production.  Government has been promoting the use of alternative raw materials for alcohol production. This has the potential to increase the capacity of distilleries and reduce their reliance on traditional raw materials like sugarcane and molasses.
Thirdly, the State has a large and growing consumer market for alcohol, with a population of over 240 million people. With rising incomes and changing consumer preferences, the demand for premium quality alcohol and different varieties of alcohol is increasing supplemented with streamlined licencing process has offered significant growth opportunities for the industry.
Fourthly, Uttar Pradesh has a large population and a growing middle class, which has led to an increase in demand for alcohol in the state. This presents a huge market for distilleries to cater to.
Finally, Uttar Pradesh has a well-developed transportation network, with several major highways and railway lines passing through the state. This makes it easier for distilleries to transport their products to customers across the country and the world.
Overall, these factors make Uttar Pradesh a land of limitless opportunities in the distillery/alcohol sector, with a favourable location, supportive Government Policies, abundant raw materials, a large and growing Consumer market and excellent transportation infrastructure.
II. Distillery Data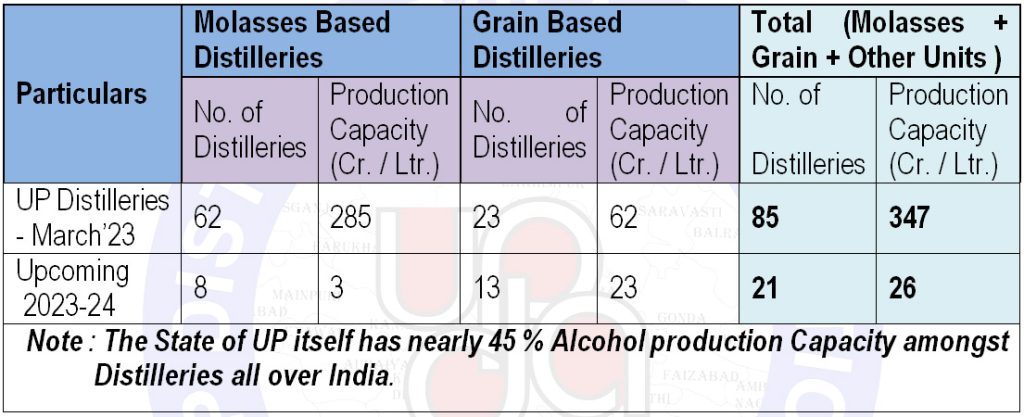 III. Ethanol
Indian Government's ambitious 'Ethanol Blending Programme' (EBP) is moving at a fast pace with a target to achieve 20% blending by 2025. UP has been a major contributor in EBP having achieved highest Blending of 11.89% with a National Average of 11.56% as on March'23.
To meet the target of 20% EBP by 2025 it is estimated that 1150 – 1200 crore litres of Alcohol would be required for Ethanol purposes. In present context of having achieved over 11.5% Blending, the Sugar / Molasses capacities for Alcohol production are nearing saturation. Moving forward, Grain would be primary source to meet the 20% EBP programme.
Central Government has taken several steps to promote the production of both Molasses & grain-based alcohol in the Country offering various incentives & subvention schemes. In UP specific these schemes & subsidies have encouraged Distilleries to establish over 20 Grain Distillery itself in a short span with 13 more Grain Distilleries expected by 2024. Overall UP is expected to have more than 20 new Distilleries (Grain + Molasses ) in next 1 year.
IV. Potable Alcohol
UP Distillery Industry is fast adaptive to upgradations& bringing in New Global Technologies. The momentous growth reflected in following numbers is evident of the fact :
UP leading in Sugarcane- Molasses production has Alcohol Production of over 1.5 Billion Bulk Litres jumping from 900 Million Bulk Litres just 3 years back. Alcohol produced from Grain have recently commenced in the State with' Sky the Limit' in times to come.
The UP Distilleries 'Economical Indian Made Foreign Liquor Segment called 'Country Liquor' is a significant contributor to State Excise Revenue. Based on realistic targets of past years, the Annual production/ consumption target in 2023-24 is of 100 Million Cases ~ 45 Billion-unit packs. A mammoth & unbelievable numbers !
24×7 running operations – Distinctive to U.P.
V. Alcohol Requirements in UP
Ethanol – To achieve 12% Blending target in coming Months there is requirement of around 120 Crore Litres of Alcohol.
Potable – To achieve target of 100 Million cases of Country Liquor segment there is a requirement of a around 50 Crore Litres
VI. Feed Stock Ratio – Molasses : Grains
Taking a Bird's Eye view of All India requirements, it is estimated that almost 1300 Crore Litres of Alcohol production is required in coming 1-2 years itself to meet E20 Programme & growing Potable demand. As per fair estimation Alcohol from Sugarcane Molasses can be estimated to be maximum upto 550 Crore Litres, leaving a deficit of 750 Crore Litres for Alcohol to be produced from Grains.
VII. Revenue
The key stream of Excise Revenue which includes Distillery Business contributed significantly having achieved $ 420 Billion this year, keeping Target of $ 450 Billion in 2023-24 with 20% growth YOY. These accolades have been possible under long term Vision of our Hon'ble Chief Minister, Shri Yogi Adityanath Ji.
Ut libero aliquam elit ac sed mauris sagittis ullamcorper pretium mauris libero nullam maecenas aliquet eu viverra sed.